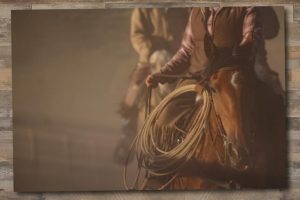 Ranch horses have been our partners, our heroes, since long before the show pen was invented. These exceptional athletes are well trained, versatile and a joy to ride. Whether on the ranch or in the show pen, ranch horse owners know that a good horse always has his back. Now, there is a class you can bring your good ranch horse to, and expect to see the skills of the ranch rewarded.
The Ranch Horse Program:
Straight out of the training pages of Dr. Michael Guerini, Julie Slater and Mike Marquez, three trainers with a deep connection to the cowboy community and a long history on the ranch, ranch horse tests reflect the skills a good horse has to learn to succeed on the ranch. They incorporate lateral work, speed control, turnarounds and transitions. Engagement and softness in the bridle are rewarded.
The Progression:
The progression found in the Ranch Horse Program is unique and allows horses and riders with little or no experience to get involved. Level 1 is for a nicely started colt. This level includes walk, trot, turns and lengthenings and rewards a horse that is nicely forward and engaged. As you move up to Level 3, you will find lope transitions, lateral body control and some turnarounds. Level 6 is for the finished horse, and will included turnarounds, rollbacks, flying changes and speed changes.
Why is the Ranch Horse Program for me?
Progressive training is good for your horse.

When you make sure the basics are solid before moving up, your horse develops muscles, stamina and coordination, important components to keeping your horse sound and healthy.

The scores you receive are important tools to addressing your horse's further development.

We score and provide detailed feedback on each maneuver. This gives you the opportunity to get a judge's evaluation on each of your horse's skills.

You will increase the value of your horse.

"My horse scores 73% or higher at Level 5" is an industry-wide measurement that is understood by buyers and competitors alike.

You don't have to leave the place.

Find a level area to measure off the minimum arena size (50'x100′), pick a level and a test, capture your video to upload to Youtube, and submit it to our accredited judges.

It won't break the bank.

You don't have to take a day off to trailer long distances. The entry fee is only $25 per test plus a nominal registration fee.
The Ranch Horse Program bridges the gap between traditional western training and modern live shows:
We allow the use of the snaffle for any age of horse, but require that you ride with one hand when a curb bit is used. Take a look at our equipment rules, where you will find which tack is permitted. Our judges will use the NAWD Objective Judging System, which is based on the classical training pyramid. Credit for this concept goes to Andrew McLean, PhD. International Society for Equitation Science.